Harp By Harpo - Harpo Marx
RCA Victor LPM-27 LP
1951/2 (and multiple variations)
Stardust
Tea For Two
Guardian Angels (Dad wrote this song)
Swanee River
Bouree
Chanson Dans La Nuit
Harpo In Hi Fi
Mercury MG20232 (mono)
1957
Thinking of You
Guardian Angels (Dad wrote this song)
Yesterdays
My Funny Valentine
The Ash Grove
Tenderly
Can't Help Lovin' Dat Man Of Mine
Lullaby Doll (Dad wrote this song)
They Say That Falling In Love Is Wonderful
Autumn Leaves
Honeysuckle Rose
That's All
Harpo At Work
Mercury MG20363 (mono)
1958
Harpo At Work
Mercury SR60016 (stereo)
1958


Laura
My Blue Heaven
The Man I Love
Taking A Chance On Love
Imagination
Aye, Aye, Aye
Harpo Woogie (Dad wrote this song)
All The Things You Are
Sweet Sue
In A Sentimental Mood
I Got Rhythm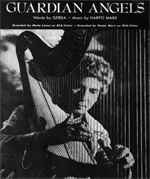 My dad's own composition, Guardian Angels, was recorded by Mario Lanza and released on the 199 RCA Album, Christmas With Mario Lanza. He may have also played the harp on this recording, which was taken from an earlier session. (Lanza sang the song to his kids at night.)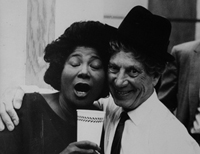 Dad definitely played on Mahalia Jackson's 1963 Columbia album, Let's Pray Together, and again, it was Guardian Angels. He and Jackson had worked together at least two previous times - on Milton Berle's Kraft Music Hall on January 14, 1959, and on The Red Skelton Hour, September 20, 1962.
** Dad's photo is on the cover of my second jazz album, "My Son, The Folk Swinger" (1963) but he doesn't actually perform on the album.**
The HarposPlace.com website and its contents © 2010 Bill Marx. All rights reserved. You may not duplicate any information or content on this site without permission from the copyright holder.